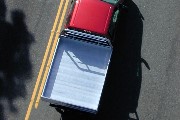 Ute aluminum beds, tried and tested in Australia for nearly 4 decades, have unlimited potential for practical applications. Rustproof, tough, strong, lightweight and versatile, they are the reason UteLtd® opened for business.
UteLtd® is a member of the NTEA, SEMA, LTAA and the Better Business Bureau.

UTE®BED
UteLtd® is a family-run business based in Seattle, Washington. The business was established in 2000, when Ute president Randy Cryer discovered the versatile aluminum pick-up bed while traveling in Australia. The practical-thinking Australians have been driving around their "utes" (Australian for pick-up trucks), decked out with aluminum beds for nearly 4 decades, and these beds are fitted on about 75 percent of all pick-up trucks in the country. Tried and tested, the UteBed® is strong, lightweight, durable, rustproof, versatile, and lends itself to an unlimited array of uses.

UTE BULLBAR
Ute Ltd recently discontinued its line of BullBar products, due to the challenges of keeping the products current with new model Ford SuperDuty trucks, Dodge Ram and Chevy Silverado HD. This superior-quality product was very popular with our customers. We do still have a few items in stock but please hurry. Click here for the latest BullBar inventory.
Ute products are now distributed all over the US and Canada.
For a list of dealers, click here.
If you would like to learn more about Ute products, or are interested in becoming a dealer, please click here.