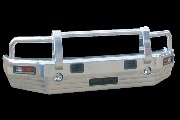 The very latest technology -- uncompromised strength, refined styling and valuable protection. High grade, brightly polished aluminum construction is lightweight, yet strong. Stylish urban design enhances your vehicle's appearance, while providing valuable protection for your vehicle. Does not interfere with the vehicle's carefully engineered crumple zones which are designed to dissipate energy to protect occupants. Crash-tested for air-bag compliance. Winch-mount option available.


UTE BULLBARTM
Ute Ltd recently discontinued its line of BullBar products, due to the challenges of keeping the products current with new model US-manufactured Pick-up Trucks. This superior-quality product was very popular with our customers. We do still have a few items in stock but please hurry.
Ute products are now distributed all over the US and Canada.
For a list of dealers, click here.